WHAT IS A CREDIT SCORE?
Your credit score is a number that is based on the following…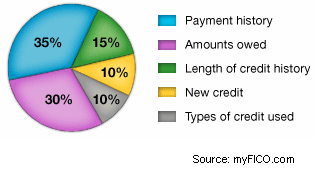 This information gives lenders an picture of your credit history and the likelihood of you paying them back
WHY DOES GOOD CREDIT MATTER?
Credit is the most important thing when it comes to the Lender deciding if you qualify for a home loan
Your Credit score will determine how much your interest rate will be
The higher your Credit Score, the lower your Interest Rate
WHY IS THIS SO IMPORTANT?
You will have this same interest rate for the life of your loan unless you re-finance your loan at some point
A higher interest rate increases your monthly payment
HOW TO MAINTAIN GOOD CREDIT….
Pay down debt
Make payments on time
Don't open credit unless you need it
Don't add to existing credit debt when looking to purchase a home
IF YOU ARE LOOKING TO GET PRE-QUALIFIED: Use Mortgage Lenders as a resource, they will check your credit for FREE and let you know if you have pending issues
Many buyers are unaware of pending issues on their credit report
 Check your credit before you are ready to buy a home so you have time to clear up any credit issues